The Leads feature records the enquiries coming from the Lead generator API.
Each time a visitor completes the enquiry form on your website, a new lead with the completed details will be added inside the Leads page.
The Leads page can be accessed by clicking on the Leads button from the top menu.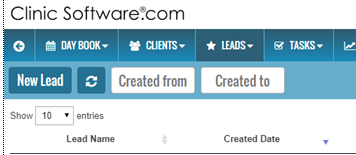 The Leads page will list all the leads added from the Lead generator API or manually by clicking the "New Lead" button.
To display the leads from a specific date range, use the "Created from" and "Created to" date fields to specify the date interval.
By default the latest lead will be displayed first.
You can change the ordering criteria in which you view the leads by clicking on the column you wish to sort by from the table header.
If you click on the same column again from it will change the direction from descending to ascending order.

The lead entries page can be changed using the buttons from the bottom-right area of the table.

To search the leads entries table you can use the Search text field on the top right section of the leads table. This will search all the entries that match the keyword.

You can also filter the lead entries by using the text boxes under each column, this will allow you to perform a more granular search e.g. open leads with the stage "need to call back".